Fed Raises the Interest Rates AGAIN & The Debt Toll…
It's the 3rd one of this year – the interest rate has spiked again by another 0.25%.
While this may seem like a small number, it has a significant impact. This interest rate will not only raise the interest that is being paid on variable mortgage loans but it will also have an impact on credit cards, line of credit and future financing on real estate. This is not a good news for those looking to buy new homes or refinancing them.
One of the big reasons why the Federal Reserves (The Fed) raises interest rate is to slow down the economy. When the economy is growing strong and racing off on high speeds, the Federal Reserve will try to decrease the money supply by raising the interest rates. Thus, more money is being paid back to the bank and back to the Fed. It's almost as if the Fed has the "magic lever" to control the speed of the economy.
But many experts in real estate and economists are seeing this as a possible route to a yet another market crash. Just as we have been predicting over the last few months, the interest rates are on the rise AND it is entirely possible that we will see another interest rate hike by the end of the year.
Commercial Real Estate on the Noose
It is NOT looking good for commercial loan borrowers. That includes retail businesses with variable interest rate loans and real estate investors holding onto a commercial loan that tends to be variable and has a 5-10 year balloon. Meaning, the balance of the loan will come due at the end of the 5-10 year period. The main challenge is that many commercial borrowers are holding on to loans that may come due for refinancing in less than 1-2 years. Given where we are headed, we may see a gap of 1 to 1.5% difference in the rate. That's conservatively speaking. Who knows? This may just go out of control and we may see an interest rate difference of 2-3% when comparing to the rates back 3-4 years ago. What is concerning is that the borrowers now have to either refinance OR secure another financing on a higher interest rate. This goes for restaurants especially when the average profit margin is 2-3%. A restaurant holding onto a variable business loan is definitely going to feel the pinch of the interest rates going up. Not surprising, this will also negatively affect Multi-family (apartment) real estate investors with a variable commercial loan. Higher interest rates mean less cashflow. If the cashflow is already tight, raising the interest rates could mean negative cashflow. As far as the residential real estate market goes, I don't think it'll get as bad as the commercial market. While I do see an impact on variable residential loans, majority of the variable loan products fit in the commercial category.
The Debt Toll WILL be High
The United States has a HUGE debt amount. Both on the consumer and public side. Just take a look at this:  http://usdebtclock.org/
It's very alarming to see that our debt count is HIGHER than the 2008.
It's sort of like suspending a LARGE piece of an object on air and waiting for someone to take a scissor to snip the rope that is keeping the object suspending. The higher it is suspended, the more devastating effect it has on whatever is falling on.
This is what I imagine what our debt looks like right now… If it all collapses, it will "annihilate" people. Thanks Marvel!
I mean… Just look at these numbers! (YIKES!)
And Looking at a larger picture, here's why this concerns me the most…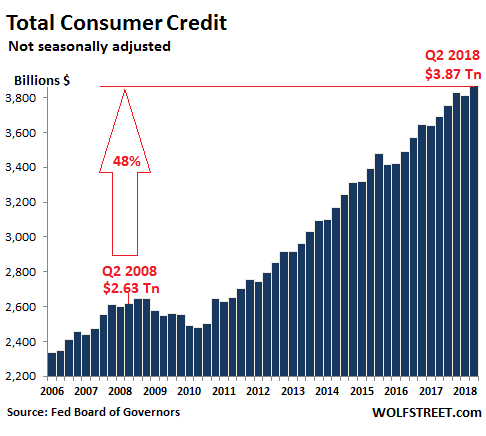 This is why I believe that the next market crash will be WORSE than what we have witnessed in 2008. The 2008 market crash may have been initiated by real estate but I think the next market crash will come in various forms of domino effect. One bubble after another. POP!
Rising Interest Rate + VERY HIGH Debt = NOT GOOD
My personal suggestion is to pay down as much debt as possible. Credit Cards, Student Loans, Auto Loans and mortgages. Bring them down as fast you can. I do have a good news… There is a strategy called the Velocity Banking strategy that can help you pay down your loans at a quicker rate than what most people can imagine. You can potentially pay down your mortgage in 1/3 of time while paying only 1/3 of the interest. Now, I know that sounds way too good to be true. And so did I until I understood the math behind this strategy. Just check out the video that I made recently on YouTube -> https://www.youtube.com/watch?v=TWh5vBa-jhM
Ladies and Gentlemen… Brace yourself for an impact! The debt toll is rising… Interest rates are rising… I'm a fan of roller coasters but not when it's our money. Now is not the time to play luxury spending mode… It's the best time to shed off any excess of debt and spending. Cut expenses and brace for the impact!