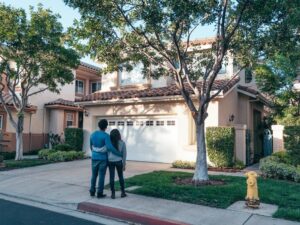 One of the long-standing debates in personal finance is whether you should pay off your mortgage early or invest the surplus money. While both strategies have their merits, there's a compelling argument for prioritizing mortgage payoff – escaping the cycle of endless interest payments. (And it's not what you think) Let's delve into why this might be the most sensible approach for many homeowners.
Front-Loaded Interest: A Costly Beginning
In a standard mortgage payment schedule, your initial payments are predominantly servicing the interest on your loan. This is because the amortization schedule – how your payments are spread out over the loan term – is front-loaded with interest.
If you take out a 30-year mortgage, the bulk of your monthly payments for about the first decade will go towards paying interest rather than reducing the principal balance. Only a minuscule portion chips away at the loan principal. This schedule keeps you in a state of perpetual debt, paying more to the lender than towards your home's actual cost, especially in the early years of your mortgage.
The Average American Move: A Costly Cycle
Here's where the statistics from the U.S. Census Bureau come into play. The average American moves 11.7 times in their lifetime, roughly every six to seven years. This means that by the time you've made significant headway into paying off the principal of your mortgage, you're likely to move and start a new 30-year mortgage cycle.
Starting a new mortgage resets the amortization schedule, pushing you back into a period of interest-heavy payments. The pattern of frequent moving and resetting mortgages leaves most homeowners stuck in a cycle of endless amortization, thus multiplying their total lifetime interest costs by three to four times!
The Cost of Never-Ending Amortization
By continually restarting the mortgage cycle, you can end up paying several times the cost of your homes in interest alone over your lifetime. This endless cycle of amortization keeps homeowners trapped in a perpetual state of debt, which can be both financially and emotionally draining.
Paying off your mortgage early allows you to break free from this cycle. It reduces the overall interest paid, offers peace of mind, and can contribute to a secure financial future. Besides, owning your home outright is a significant milestone that provides a sense of stability and security.
You also have to remember WHO benefits from having your money contributed to an IRA or a 401(k). Most financial firms and custodians make 1-3% off of YOUR retirement funds with wide-ranging "management fees". So it's no surprise that financial advisors and professionals DON'T want you to pay off your mortgage earlier because by you doing so, they make less money from selling you investment products. I'm not saying all financial advisors are evil or greedy. What I am saying is that there's a clear factual conflict of interest for the financial advisor if more of your dollars are used to pay off your mortgage.
I'm also not anti-investments either. I believe you should always factor in the opportunity cost, risk tolerance, and what ultimately makes sense for your financial future. But my goal by writing this is to highlight a less-known problem that most financial advisors or so-called experts don't talk about. I want you to make well-informed decisions by looking at all pros and cons.
Breaking the Cycle
Paying off a mortgage early isn't always easy, but it's worth considering, especially given the cycle of perpetual interest payments and the financial burden that comes with it. Strategies such as making extra payments, refinancing for a shorter term, or utilizing methods like the Accelerated Banking strategy using a Home Equity Line of Credit (HELOC), can help break this cycle and fast-track your mortgage payoff. You can watch a free 25-minute video on YouTube on how that works: https://youtu.be/eGVn9iq1e6c 
Remember, owning your home outright might be one of the most effective ways to reduce your lifetime interest costs and secure a robust financial future. Breaking free from the cycle of perpetual interest is not only financially rewarding but also offers unprecedented peace of mind.